What is Splash Ink with Watercolor?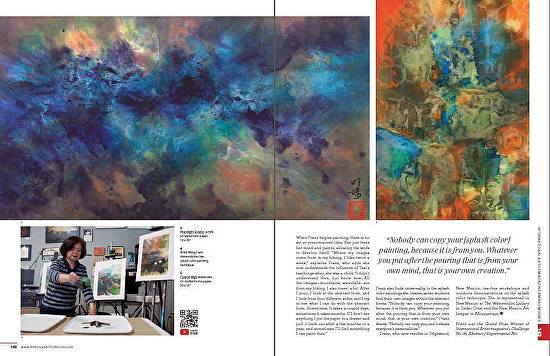 International Artist magazine "Abstract / Experimental Art.Challenge"
GRAND PRIZE winning painting!


The painting and an article about Ming's work will be published in
International Artist magazine #102, April/May 2015 issue.
Her artwork will also appear in the April issue of American Art Collector.
Splash ink with Watercolor is a delightful journey, breathing life with a spontaneous Western interpretation into a traditional Chinese painting technique - PoMo.
Ming surveys artists using this technique from 8th century Tang dynasty through the 1960s abstract expressionism, into contemporary artists pouring and splashing ink and color.
Ming's meticulous description of materials and techniques encourages the reader to unleash the playful creator within, by freely experimenting with her approach to this dynamic art. Splash Ink with Watercolor is a blending of Asian black ink and primary watercolors splashed onto layers of mulberry rice papers, adding finishing touches from both Eastern and Western traditions.
Blending black ink and watercolors produces an abstract which can be variously interpreted. Often the artist must look at the abstract forms and let the colors speak. The creativity is in the mind of the artist.
This innovative style of painting expresses an exceptional and contemporary view of nature. Artists can allow themselves to let go of control and enjoy this method of creativity. It is about freedom, creativity and your imagination.
Recently Ming has been experimenting with liquid acrylic like FW Artists Ink by Daler Rowney and Liquid Acrylic by Golden. She also tried this on watercolor paper, canvas and panel, which she now calls " Splash Color."